Taxi Transfers To and From Mallorca Airport
Find Unbeatable Value Taxi Transfers


Mallorca Airport Taxis - Fares, Distances and Where to Find Them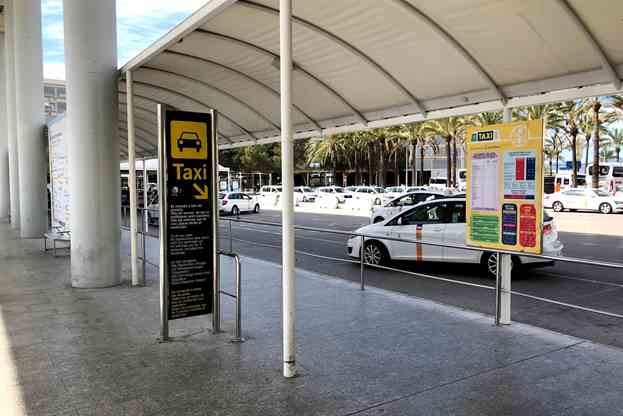 There is no train station at Palma de Mallorca Airport, but there are two reliable and frequent bus services for visitors who shy away from the expense of taking a taxi. In central Palma there are metro trains connecting the capital with towns and resorts across the island.
Bus services run from just outside the check-in and arrivals areas of the terminals, just opposite the car parking area. Taxi stands are also located conveniently outside the arrivals area on the ground floor level. Palma is just an 8 kilometers/5 miles distance from the airport, and by taxi the trip takes only a few minutes.
There are a number of official airport taxi operators. You can make a booking beforehand by telephoning or you can find the service at the taxi rank. Official Mallorca Airport taxis are supplied by operators like Radiotaxi (tel +34 971 755440), Palma Taxi (tel +34 971 401 414) and Fono Taxi (+34 971 728 081) among others. Disabled passengers wishing to hire Mallorca Airport taxis can telephone a special line at +34 971 703 529 to obtain a specially equipped vehicle for their requirements.
The airport itself is a barrier free airport where ramps, elevators and lifts provide access to all levels and facilities like toilets for the disabled. Wheelchairs can also be borrowed from the information stands, where airport staff will be happy to assist.
Taxis may be more expensive – especially airport taxis – but they do provide greater comfort when travelling with small children or a lot of luggage or both. They also offer more privacy for travelers wishing to make important telephone calls from their mobile phones while being chauffeured to Palma or to the resorts on the island.
Since Mallorca attracts mainly tourism from Germany, France and the UK, virtually every driver will have a rudimentary understanding of a few words in another language. Drivers are friendly and used to non-Spanish speaking passengers.
Taxis at Mallorca Airport provide a fast and efficient mode of transport for business travelers, who are always in a hurry and would rather not be sitting in a bus that makes many stops before reaching its destination. A comfortable journey in Mallorca Airport taxis gives a business traveler just that little bit of extra time to compose a last minute adjustment to a presentation or relax before a meeting.
Drivers are also useful when it comes to finding out about tourist attractions that are off the beaten track. They know the best restaurants and bars, the liveliest nightclubs and the best places for shopping.
Depending on what time of day and what day of the week you travel via a Mallorca Airport taxi, there may be different charges applicable. Weekends and evenings in particular attract higher taxi fares. There will also be an additional charge for every piece of luggage loaded into the taxi and the shuttle service between Palma and the airport also attracts a surcharge.
Mallorca Airport taxis do not charge for loading a wheelchair or a baby seat into the taxi. The taxis as a rule don't have baby booster or child safety seats and this is something you should enquire about at the time of your advance booking. There is also no charge for guide dogs, but regular pets will usually have to pay for their trip.
Taxis Mallorca Airport are metered and a fixed charge applies to every kilometer traveled on the island. Before boarding your taxi, you should make sure that you know what the approximate cost of your journey is going to be so as to avoid any dispute later.
Some of the airport hotels offer their own shuttle services by bus and the regular bus Route 21 offers many stops at the most popular hotels on the way to Palma and in the city center. Cheaper accommodation can be found in guesthouses (hostales), but if you are staying fairly close to the airport then there are several hotels no further than two miles away. Mallorca Airport taxis will provide you with a quick and safe journey to your hotel and later take you back to the airport.
While on the island there is plenty of time to travel by bus, metro train or hired car. It always takes a little time to get used to the traffic in another country and with Mallorca Airport taxis you will arrive safely at your hotel where you can relax and the start your holiday.
For further information about Mallorca Airport taxis, please visit the official airport website at www.aena.es
Taxi fares to & from Mallorca Airport (PMI)
Taxi Transfer Customer Reviews
Available Transfer Options