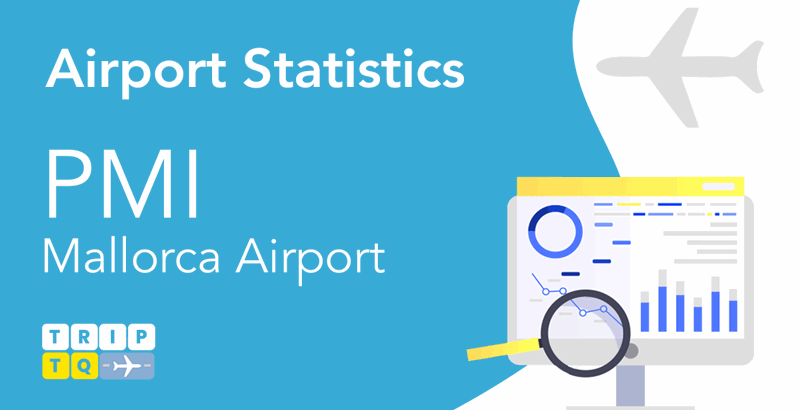 4% Net Gain in July Passenger Numbers at Mallorca Airport
The data provided indicates that Mallorca Airport experienced growth in passenger numbers during July. Specifically, there was a 4% net gain in passenger numbers when comparing July 2023 to July 2019. In July 2019, the airport had a total of 4,207,218 passengers. The numbers increased to 4,378,218 passengers in July 2023, representing an increase of 171,000 passengers over the four-year period.

This comes after a tumultuous period for the aviation industry due to the impacts of the pandemic, which disrupted global travel patterns in 2020, leading to a significant decline in passenger numbers across airports worldwide, including this airport.
In 2021 and 2022, passenger numbers at Mallorca Airport showed improvement as travel restrictions eased and vaccination campaigns gained momentum. However, it was in July 2023 that the airport witnessed an all-time high surge in passenger numbers, marking a significant milestone in its recovery journey.
Several factors may have contributed to the surge in passenger numbers in July 2023. Mallorca's popularity as a tourist destination may have been crucial in attracting visitors. The island offers scenic beauty, a pleasant climate, and a wide range of tourist activities, making it an appealing choice for travelers seeking relaxation or adventure.
The reopening of borders, relaxation of travel restrictions, and successful vaccination rollout led to increased tourism and business-related trips to Mallorca. The airport's efforts to enhance connectivity and improve services have positively influenced travelers' decisions to choose Mallorca.
Mallorca, situated in the Mediterranean Sea, has emerged as a favored tourist destination for travelers worldwide. Its picturesque landscapes, captivating historic sites, and vibrant cultural scene have become a magnet for tourists seeking a memorable vacation experience.
As the summer months unfold from May to September, Mallorca experiences an influx of visitors eager to explore its charms. The island's inviting beaches, warm climate, and recreational activities make it an ideal summer getaway. Consequently, the number of passengers at Mallorca Airport tends to soar during this peak tourism season.
The island boasts stunning coastlines with pristine sandy beaches, offering relaxation and water sports opportunities. Its quaint towns and impressive historic landmarks, such as the Palma Cathedral and Bellver Castle, attract history buffs and culture enthusiasts alike. Its lively nightlife scene, with its bustling bars, clubs, and restaurants, provides an exciting social atmosphere for visitors to enjoy.
The surge in passenger traffic during the summer can be attributed to this irresistible combination of natural beauty, cultural heritage, and recreational offerings. Travelers from different parts of the world yearn for an unforgettable vacation on this island paradise, which leads to an increase in flights and overall airport activity.
Recognizing the immense popularity of the destination, airlines see an opportunity to tap into this demand by offering direct flights from additional cities and countries. Introducing new routes caters to the increasing passenger traffic. It promotes accessibility and convenience for travelers, enabling them to reach Mallorca directly from their origin without any layovers.
The strategic decision by airlines to increase flight frequency and introduce new routes reflects their understanding of the market dynamics and the desire to capitalize on the demand for travel to Mallorca during the peak season. As a result, passengers benefit from an expanded range of flight options, smoother connections, and improved overall travel experiences.
Charter flights provide a unique and convenient travel option for tourists, as they offer direct connections from various cities to Mallorca without the need for layovers or multiple transfers. This direct route appeal is especially attractive to travelers, allowing them to reach their holiday destination quickly and efficiently, maximizing their time on the island.
The influence of charter flights on passenger numbers becomes particularly notable during certain periods, such as school holidays or special events. For example, during school breaks, families often plan vacations to Mallorca, taking advantage of the ease and convenience of charter flights. These flights cater specifically to the spike in demand during these holiday periods, ensuring a steady flow of passengers arriving at the airport.
The availability and utilization of charter flights provide additional accessibility and convenience for travelers visiting Mallorca. By offering direct connections and catering to the demands of school holidays or special events, charter flights contribute significantly to the surge in passenger numbers at Mallorca Airport.
The affordability factor offered by low-cost airlines can be a game-changer for many individuals planning a trip to Mallorca. With competitive pricing and discounted fares, these airlines make travel more accessible and affordable for a larger audience. This accessibility extends to both leisure travelers and business professionals, enabling individuals from various socio-economic backgrounds to explore the beauty and charm of Mallorca without breaking their budgets.
Moreover, low-cost airlines often operate with high flight frequencies and maintain an extensive route network. This means there are multiple daily flights to and from Mallorca, providing travelers with greater flexibility in departure and arrival times. The enhanced flight frequency ensures that passengers have more choices, allowing them to plan their trips according to their preferences and convenience.
The extensive route network of low-cost airlines also widens the accessibility of Mallorca as a destination. By connecting the island with numerous cities and countries, these airlines open many travel opportunities for individuals who may have yet to consider visiting Mallorca.
Mallorca is a preferred destination for many cruise lines due to its scenic coastline, rich cultural heritage, and diverse experiences it offers passengers. Cruise ship passengers who disembark at the port of Palma de Mallorca often choose to extend their vacation or return home via Mallorca Airport, resulting in a surge in passenger traffic during the cruise ship season.
The convenience and accessibility provided by Mallorca Airport make it an ideal choice for these cruise ship passengers. Opting to fly out of Mallorca saves time and effort by avoiding long journeys to other airports, enabling them to seamlessly continue their travels or reach their final destinations. The airport's proximity to the popular cruise ship port enhances the overall travel experience for passengers, making it a natural choice for departure or return flights.
Mallorca has established itself as a coveted destination for hosting significant events, including international conferences, trade shows, sporting tournaments, and cultural exhibitions. The island's pleasant climate, excellent infrastructure, and stunning venues make it an appealing choice for event organizers, attracting diverse participants and visitors.
The allure of these major events draws attendees from various countries who seek to share knowledge, network, or immerse themselves in the vibrant atmosphere surrounding these gatherings. Many attendees opt to fly into Mallorca Airport to reach Mallorca, as it provides convenient access and efficient connectivity to the city and event locations.
UNBEATABLE VALUE CAR RENTAL

FREE
Amendments,
FREE
Cancellations,
NO
card fees!

airport_shuttle Need Airport Transfers?
Useful Information about Mallorca Airport