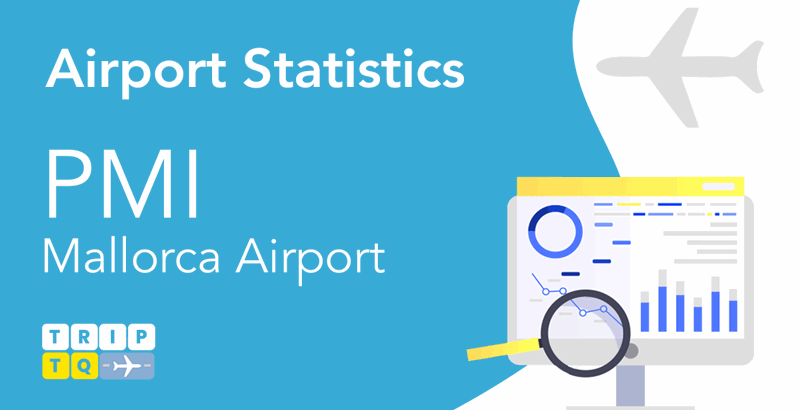 Passenger Traffic at Mallorca Airport Recovers by 3% in September 2023
In September 2023, Palma Mallorca Airport experienced a remarkable recovery in passenger numbers, with a 2.58% increase compared to September 2019. The total number of passengers reached an impressive 3,767,020. In September 2023, records showed 3,864,075 chose this hub for their journeys.
Airports worldwide have faced unprecedented challenges since the global pandemic struck in 2019. This period saw a significant decline in passenger traffic due to travel restrictions and public health concerns. However, as the world gradually recovers from the impact of the pandemic, airports have been witnessing a resurgence in passenger numbers. Palma Mallorca Airport is no exception.
Tourism Opportunities - A Catalyst for Recovery
The rich tourism opportunities in the region have played a pivotal role in the impressive recovery of Palma Mallorca Airport. With its stunning beaches, vibrant nightlife, and cultural heritage, Mallorca has long been a popular destination for travelers worldwide. The allure of the island's natural beauty and warm Mediterranean climate attract visitors seeking sun, sea, and relaxation.
Mallorca offers a diverse range of attractions and activities that cater to different interests and preferences. From exploring the historical streets of Palma, the island's capital, to discovering picturesque villages nestled in the mountains, there is something for everyone. Additionally, the abundance of water sports, hiking trails, and cycling routes ensures that outdoor enthusiasts have ample opportunities to immerse themselves in nature.
The availability of various accommodations has also contributed to the airport's recovery. Mallorca boasts many hotels, resorts, and vacation rentals catering to different budgets and tastes. Travelers can choose from luxury beachfront resorts to cozy boutique hotels or traditional accommodations tucked away in the countryside. This diverse range of accommodations adds to the appeal of Mallorca as a tourist destination, attracting visitors looking for a comfortable stay during their time on the island.
Improved Connectivity - Enhancing Accessibility for Travelers
Another factor contributing to the recovery of Palma Mallorca Airport is the improved connectivity between the airport and various international destinations. Airlines have increased flight frequencies and routes, giving travelers more trip-planning options. Expanding air travel partnerships and agreements have facilitated easier access to Mallorca, making it a convenient choice for leisure and business travelers.
This enhanced connectivity has attracted new visitors and encouraged previous travelers to return. With better connections to major cities across Europe and beyond, Mallorca has become an accessible hub for exploring the Mediterranean region. Furthermore, the increased availability of direct flights to popular tourist markets has eliminated the need for layovers or transfers, providing a seamless travel experience for passengers.
Safety and Confidence - Rebuilding Trust in Travel
One crucial aspect that has contributed to the recovery of Palma Mallorca Airport is the implementation of stringent safety measures and protocols. As the world emerges from the global pandemic, ensuring the health and well-being of travelers has become a top priority for airports worldwide. Palma Mallorca Airport has proactively created a safe and secure passenger environment.
The airport has implemented thorough cleaning and sanitization procedures, with an increased frequency of disinfection in high-touch areas. Social distancing measures have been put in place, including installing protective barriers and providing hand sanitizing stations throughout the terminals. Additionally, the use of technology, such as contactless check-ins and self-service kiosks, has minimized physical contact and enhanced the efficiency of the airport processes.
These measures have helped rebuild trust in travel, assuring passengers that their health and safety are prioritized. The commitment to providing a safe and comfortable travel experience has significantly attracted travelers back to Palma Mallorca Airport, contributing to its impressive recovery in passenger numbers.
A Destination of Natural Beauty - Drawing Travelers in
Mallorca's natural beauty has been a significant draw for travelers, contributing to the impressive recovery of the specific airport. With its breathtaking landscapes, crystal-clear waters, and diverse ecosystems, Mallorca offers a haven for nature enthusiasts. The island showcases a mesmerizing tapestry of natural wonders, from the rugged Tramuntana mountains to the idyllic coves and beaches along the coastline.
Visitors are enticed by the opportunity to explore Mallorca's diverse flora and fauna through hiking trails, boat excursions, or snorkeling adventures. The preservation of these natural assets and sustainable tourism practices ensures that travelers can continue to enjoy Mallorca's beauty for years to come. The allure of this destination's natural splendor has undoubtedly played a role in driving the increased passenger traffic at the specific airport.
Cultural Heritage and Authentic Experiences - Piquing Travelers' Interest
Mallorca's rich cultural heritage has also contributed to the airport's impressive recovery. The island is home to many historic sites, charming villages, and traditional festivities that attract culture enthusiasts worldwide. Exploring the winding streets of Palma's old town, visiting historical landmarks like the Palma Cathedral or Bellver Castle, and experiencing local traditions and cuisine all contribute to an authentic and immersive travel experience.
Travelers seeking unique encounters are drawn to tMallorca's tMallorca'sgenuine hospitality and vibrant cultural scene. The island provides many to engage with its rich heritage, from art galleries and museums to local markets and festivals. This blend of cultural offerings, combined with the natural beauty, creates a compelling incentive for travelers to choose Mallorca as their destination, further fueling the recovery of the specific airport.
Government and Industry Collaboration - Driving Success in Recovery
The recovery of the specific airport owes much to the collaborative efforts of government authorities and the aviation industry. Recognizing the significance of the tourism sector and its contribution to the overall economy, the government has implemented strategic policies and initiatives to support the recovery of airports and facilitate travel. This includes streamlining visa processes, investing in infrastructure development, and promoting the destination to international markets.
Furthermore, proactive measures taken by airport management have been instrumental in ensuring a smooth recovery. Adaptation to circumstances, implementing mechanisms, and continuously improving policies have all played a crucial role in rebuilding the trust and confidence of travelers. The commitment to providing exceptional service and experiences has positioned the specific airport as a preferred choice for travelers post-pandemic.
Palma Mallorca Airport, with a remarkable increase in passenger traffic, reflects the resilience and adaptability of the aviation industry in the face of the global pandemic. The combination of tourism opportunities, improved connectivity, enhanced safety measures, natural beauty, cultural richness, and collaborative efforts has contributed to the impressive rebound of this specific airport. As we move into the post-pandemic era, the industry must continue embracing these factors while remaining agile and responsive to changing circumstances. By maintaining a strong focus on customer satisfaction, sustainability, and innovation, airports can position themselves for long-term success and contribute to reviving the travel and tourism sector.
UNBEATABLE VALUE CAR RENTAL

FREE
Amendments,
FREE
Cancellations,
NO
card fees!

airport_shuttle Need Airport Transfers?
Useful Information about Mallorca Airport