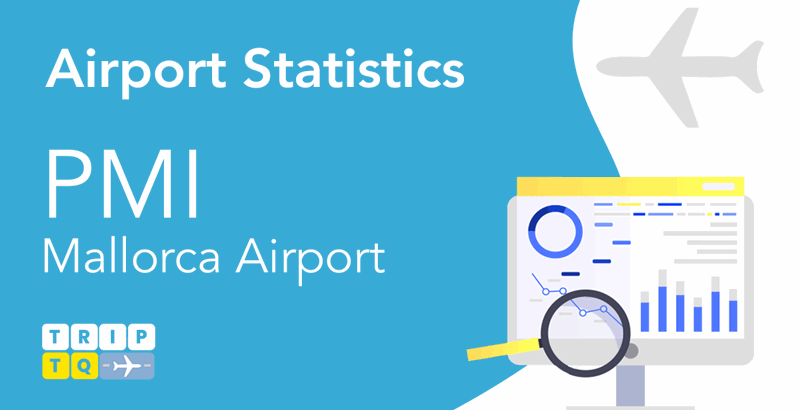 Palma Mallorca Airport Passenger Numbers Soar 5% in Third Quarter 2023
Passenger numbers soared 5.49% in Q3 2023 at Palma Mallorca Airport, surpassing pre-pandemic levels for the first time since the global pandemic began. This bustling airport welcomed over 12.6 million passengers during the quarter, representing a remarkable recovery from the extensive lockdowns and restrictions of the past two years.
Passenger Growth at Palma Mallorca Airport Continues in Q3 2023
Nestled amidst the picturesque Balearic Islands of Spain, Palma Mallorca Airport (PMI) has experienced a remarkable resurgence in passenger traffic during the third quarter of 2023. With a notable increase for this quarter compared to the same period in the previous year, the airport stands as a testament to its impressive recovery from the challenges posed by the global pandemic. This growth not only underscores the resilience of Palma Mallorca Airport but also highlights its pivotal role in fueling Spain's flourishing tourism industry.
Passenger Volume - Q3 2019 to Q3 2023
Palma Mallorca Airport has witnessed a gradual recovery in passenger numbers from Q3 2019 to Q3 2023 despite the obstacles faced by the aviation industry amidst the global pandemic.
Q3 2020 marked a significant decline in passenger volume, with only 2,855,932 passengers recorded, representing a staggering decrease of 76.70% compared to the same quarter of the previous year. However, the airport swiftly rebounded from this slump.
In Q3 2021, passengers surged to 7,390,047, showcasing a remarkable growth rate of 158.76% compared to the previous year. This resounding recovery reflects the easing of restrictions and the rekindled enthusiasm among travelers to explore the world once more.
The positive trend continued throughout Q3 2022, with a further increase of 61.81% as 11,957,788 passengers were welcomed at the airport.
In Q3 2023, Palma Mallorca Airport observed a steady growth of 5.49% compared to the same quarter of the previous year, registering 12,613,891 passengers. While the growth rate may be lower than in the preceding years, it underscores the airport's recovery and hints at the stabilization of travel demand.
Passenger Traffic - 2018 to 2022
Examining the passenger statistics from 2018 to 2022 reveals the profound impact of the global pandemic on Palma Airport.
In 2019, the airport recorded 29,721,123 passengers, marking a modest growth of 2.20% compared to the previous year. However, 2020 was a tumultuous year with a drastic decline in numbers, as only 6,108,514 passengers were recorded, signifying a substantial decrease of 79.45% from the previous year.
As travel restrictions gradually eased in 2021, a notable recovery was witnessed, with 14,496,857 passengers passing through the airport. This remarkable figure represented a significant growth rate of 137.32% compared to the previous year, signaling a resurgence in travel.
The upward trajectory continued into 2022, as the airport accommodated 28,573,364 passengers, reflecting a substantial increase of 97.10% compared to the previous year and heralding a robust rebound in travel demand.
Flight Statistics - September 2023
Preferred Countries: Germany, Spain, United Kingdom, France, Switzerland
Germany, Spain, the United Kingdom, France, and Switzerland top the list of countries most frequently visited by passengers departing from Palma Airport. These countries are favored for various reasons, such as tourism attractions, business opportunities, and cultural experiences.
Major International Hubs: London, Dusseldorf, Munich, Cologne, Zurich
Regarding international travel from Palma Airport, the cities of London, Dusseldorf, Munich, Cologne, and Zurich are the most popular destinations. These global hubs draw many passengers for diverse reasons, from business ventures to leisurely vacations.
Popular Domestic Routes: Barcelona, Madrid, Ibiza, Menorca, Manises
The preferred destinations are domestic travel within Spain Palma Airport, Barcelona, Madrid, Ibiza, Menorca, and Manises. These cities attract travelers for various reasons, including holiday getaways, business engagements, and visits to friends and family.
Leading Airlines: Ryanair, Eurowings, easyJet, Vueling, Iberia Regional
Ryanair, Eurowings, easyJet, Vueling, and Iberia Regional are the leading airlines operating at Palma Airport. Offering a broad spectrum of domestic and international flights, these airlines provide passengers with many options for their travel plans.
Are you a travel publisher and would like this information for your site/blog/publication?
Contact us on this form to request Mallorca Airport Statistics (Statistics, data and infographics are available for a wide range of airports worldwide - please tell us your requirements using the form)
UNBEATABLE VALUE CAR RENTAL

FREE
Amendments,
FREE
Cancellations,
NO
card fees!

airport_shuttle Need Airport Transfers?
Useful Information about Mallorca Airport